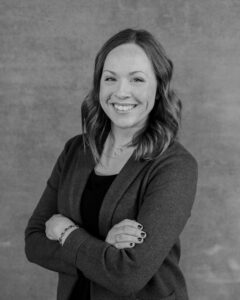 by Kandis Larsen
Principal
As public works architects we—literally and figuratively—strive to build better communities by creating the relational spaces that reflect and connect those who they serve. Gonzaga University School of Leadership Studies hosts the Living Leadership virtual series consisting of a free monthly webinar and companion podcast with a mission to create "equitable access to leadership education for individuals, organizations, and communities." When the 2022/2023 series theme was announced, "Building Better Communities", Integrus jumped on the opportunity to sponsor and participate in this insightful program.
A graduate of the Gonzaga School of Leadership, every day in my design work I reflect on lessons learned–when engaging with clients, project partners and community stakeholders, in mentoring teams, and now as a new principal. However, self-confidence was an area where I experienced so much growth and was exposed to new thinking during my time in the program, so I was excited to share on the final topic of the series, "Gaining Confidence as a Community Leader."
Conversing with co-speaker Lindsay Shaw, Logan Neighborhood Council Chair, we quickly realized how our very different paths and careers held so much commonality when it came to our growth as leaders.  A few themes discussed during our time together include:
To build confidence and show up as your most authentic self, focus on your strengths first and don't fixate on where you most need growth.
Be curious and vulnerable
Demonstrate the importance of understanding as a practice to build trust and connection with others.
Focus on the process and not the result
Do away with transactional, result-oriented interactions and instead strive to embrace the growth that happens in the process.
Reflect and solicit feedback
Challenge your inner narrative by soliciting feedback to know if you are coming across as intended.
To learn more, check out the full webinar (and podcast. And be sure to tune into this year's Gonzaga Living Leadership Series!